Graphéine visits Behance!
The world's leading creative platform, Behance joined the Adobe galaxy in 2012. At the time, various analysts estimated that the Californians had contributed $150 million. A tidy sum for a start-up with fewer than 15 employees, founded in 2006 in New York's trendy SoHo district.
A little cultural detour: don't confuse the London district of "Soho", whose etymology derives from an ancestral local "hunting cry", with the New York district of "SoHo", whose name is simply a shortening of "South of Houston Street".
Taking advantage of our trip to New York with the whole Graphéine team for the "Brand New Conference", we paid a visit to the Behance team, and in particular to "Oscar Ramos Orozco". A unique opportunity to take a behind-the-scenes look at the world's #1 social network for creative people. It's also an opportunity to share with you some tips on how to make the most of this platform.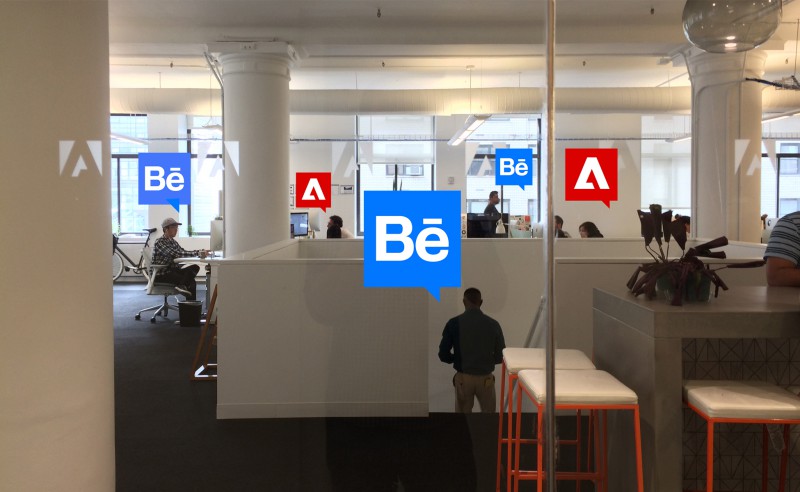 Who is "Oscar"?
Who is "Oscar Ramos Orozco" you may ask? This name probably won't mean much to you, unless you've already had the good fortune to see one of your projects published on Behance featured on one of the various dedicated sites in the Behance galaxy. Then you'll have received an email from Oscar entitled "Congrats: Your Work Has Been Featured on Behance"!
At first, we were convinced that this was the wacky pseudonym of a robot. You know, like when you have to choose a name for your computer or backup server. We tend to choose a name like "Nestor", Tintin's faithful servant, or "Jean-Pierre", the docile husband of my beloved witch. "Oscar" for a robot that awards prizes to the platform's best projects seemed like the perfect choice!
The reality, of course, was quite different. Oscar was waiting for us downstairs at Adobe's new offices in New York.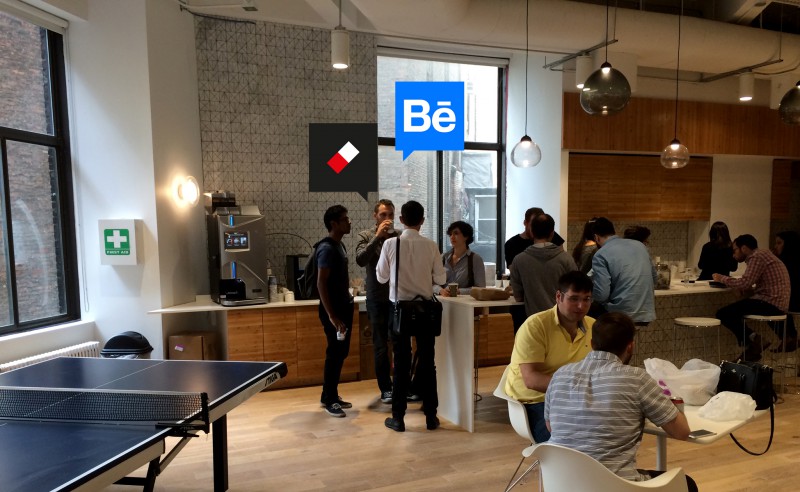 Above: Philip, Sophie and Mathias chat in the kitchen of the Behance offices. Oscar is the white shirt on the back.
The Behance eye...
Oscar joined the start-up in 2008, at a time when the team was still just a band of 5 or 6 developers driven by an unswerving passion for all forms of creativity. At the time, he was a freelance designer in the Barcelona area, but his educational background had intersected with art history and philosophy, making him quite a curious fellow. Did he know that he would soon be the only man to have "looked in detail" at over 5 million design projects?
I specify "man", because we must emphasize the equivalent role of his colleague "Nami Berglund", whom we also bumped into in the corridors. It is whispered that she worked on the first PlayStation when she was still living in Japan. Her asymmetrical haircut takes on a "magnetic aura" in our eyes. But let's not be thrown off balance. Oscar takes us, literally and figuratively, into Behance's kitchen. Two developers are playing ping-pong.
Every day, around 12,000 projects are published on Behance by over 6 million users. After an initial filter eliminating advertising-related projects (spam, ads, etc.) and projects with less than 3 images, there are between 7 and 8,000 projects left. Oscar and Nami then divide up these projects by field of activity, and laboriously open them one by one to unearth the rare gems!
In concrete terms, every morning for the past 7 years, Oscar has opened hundreds of tabs in his browser, then made himself a cup of coffee while waiting for all the images to load. He then spends 3 to 4 seconds per project, automatically closing the least interesting ones. At the end of the day, out of the 3,000 to 4,000 projects he's opened, only 6 should remain, which will then be highlighted on the Behance home page.
Surprising as it may seem, no robot can currently replace these "Mechanical Turks". Admittedly, this term may not be very flattering, given the quality and precision of Oscar's gaze, but it does reflect the limits of non-robotizable tasks. Indeed, only Oscar's acquired knowledge and visual memory will be able to detect the countless plagiarisms (or very strong inspirations) specific to this type of platform. Oscar will be able to recognize the source of inspiration for any given project.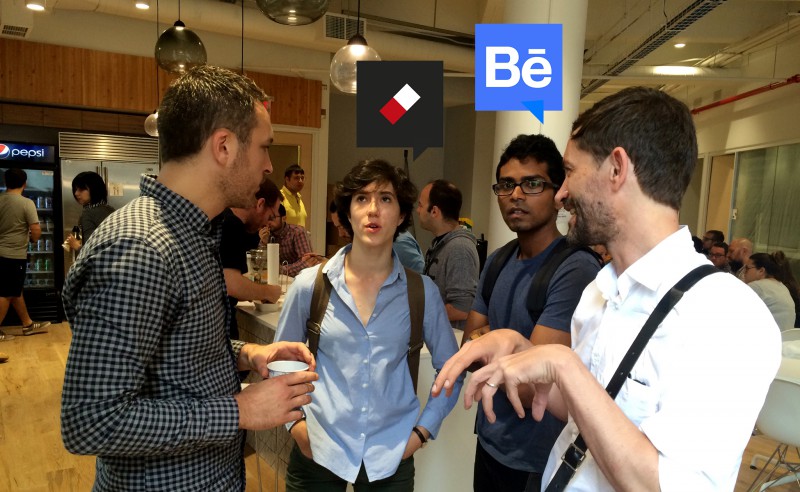 Oscar can't be replaced!
In fact, he enjoys a special status within the company. He's one of the longest-serving employees (along with Nami!). Today Behance employs around 70 people, the vast majority of whom work on development and server security. Oscar works from home most of the time, visiting the offices only once a week for a weekly update with the teams.
Oscar considers himself more of an editor than a curator. We're all familiar with the word "content curation", which comes from the field of museology to enter everyday life, particularly in Web-related expressions and activities. It only appeared in France at the end of 2010, and its definition is still under debate. If we were to risk Frenchifying the word, we'd come up with "Curateur: a person in charge of gathering, organizing and bringing to life a cultural heritage within a single collection, in order to better disseminate it to the public". Applied to Oscar, curation consists in collecting, organizing and sharing the most interesting content published on Behance.
What is certain is that curation has played a crucial role in Behance's strategy, not only to promote the site and its members, but also as a means of defending the "creative meritocracy". At a time when knowledge has been relegated to secondary status in favor of the "most visible, the most sensational", Behance aims to be both the memory of contemporary creation and the perspective that transforms information into knowledge, in order to provide the best possible resources for creative people. To this end, Oscar's curation will highlight the best conceived and also the best explained projects, with the maximum possible objectivity and neutrality.
The video below details this titanic task.