It all begins in the land of the rising sun...
...well, not necessarily everything, but at least this article and this reflection on the link between genetics and marketing. On discovering the Hong Kong advertising campaign below, our first reaction was "Whaoo... that's a cool campaign". It wasn't until the second reading that a whole host of ethical questions arose... just goes to show you should always be wary of a good ad.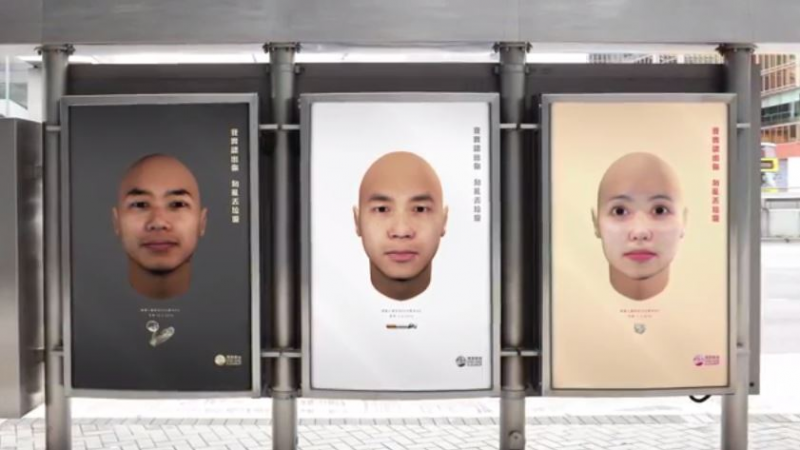 The "little Swiss-Asian"... is not as green as the "Swiss".
They say it's not bong to walk around Hong Kong in flip-flops. It's one of the most polluted cities in the world, both in the air and on the streets. If, in terms of "tax havens", we're talking about Little Swiss-Asia, in terms of the environment, the parallel is far from being as true. To raise awareness of pollution, the Ogilvy & Mather agency and the Hong-Kong Clean Up, Ecozine and The Nature Conservancy organizations have set up a campaign that is as astonishing as it is creepy.
To stigmatize polluters, they've brought out the big scientific guns. In the most polluted neighborhoods, teams collected cigarette butts and chewing gum, then investigated to recover DNA traces that would lead them to draw up composite portraits of the polluters.
Parabon Nanolabs, an American company specializing in the study of DNA for therapeutic purposes, led the investigation. Analysis of these samples created a visual representation of the culprits who abandoned their waste. This data, combined with other demographic factors, was used to determine the approximate age of the individuals. The portraits were then displayed on billboards around town and broadcast on the Internet, along with a video warning the public.
The main aim is to raise awareness of eco-responsibility among these individuals, so that they can become more aware of their actions and what's at stake for the planet.